Being one of the most searched treatment method on the internet, chemical peeling is a popular treatment for various skin conditions. The new generation of chemical peels are safe and effective, providing they are done by the professionals. A chemical solution is applied to the outer skin that causes it to exfoliate and eventually peel off. Depending on the depth of the peel and formulation of the solution used, chemical peels can also stimulate the production of new skin cells.
WHAT IS THE PEEL TIME IN CHEMICAL PEEL?
Chemical peel takes about 30 minutes for the whole face.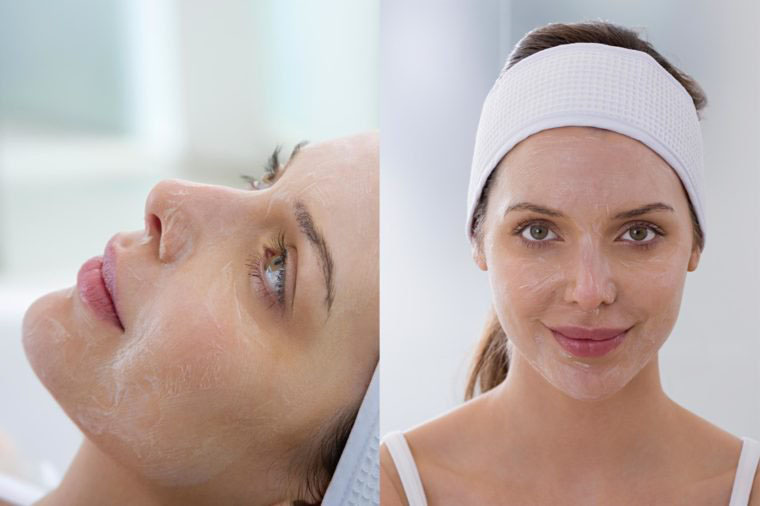 WHAT'S THE MAGIC OF CHEMICAL PEEL?
Turns back the clock- bring back the soft, radiant look to skin!
Increases skin glow or radiance
Smoothens and softens the skin
Minimizes pore size appearance
Visibly softens fine lines
Diminishes coarse lines from sun damage
Improves oily complexion
Treats acne and black heads
Lightens pigmentation irregularities
WHEN IS CHEMICAL PEEL USED?
Chemical peel is helpful for those individuals with facial blemishes, wrinkles and uneven skin pigmentation. This process stimulates the skin cells to regenerate faster, and thus fastening the process of skin healing. These peels not only remove the top layer, they also remodel the second layer of skin and as a result, as the second layer of skin heals, new collagen forms and the old collagen tighten.
Customer Reviews
WHAT ARE THE POTENTIAL SIDE EFFECTS OF A CHEMICAL PEEL?
Chemical peels rarely result in serious complications, but certain risks do exist. You may experience temporary throbbing, tingling, swelling, redness or an acute sensitivity to the sun which all returns to normal on it's own after a few days.
HOW MANY SESSIONS ARE REQUIRED?
Most individuals require a series of 2-4 peels but this is dependent on the your initial condition as well as the desired outcome. Superficial peels can be used weekly to monthly for skin maintenance while deeper peels should be done less often, and ideally not during the periods of prolonged sun exposure.
Promotion

Book a trial at Atria outlet today