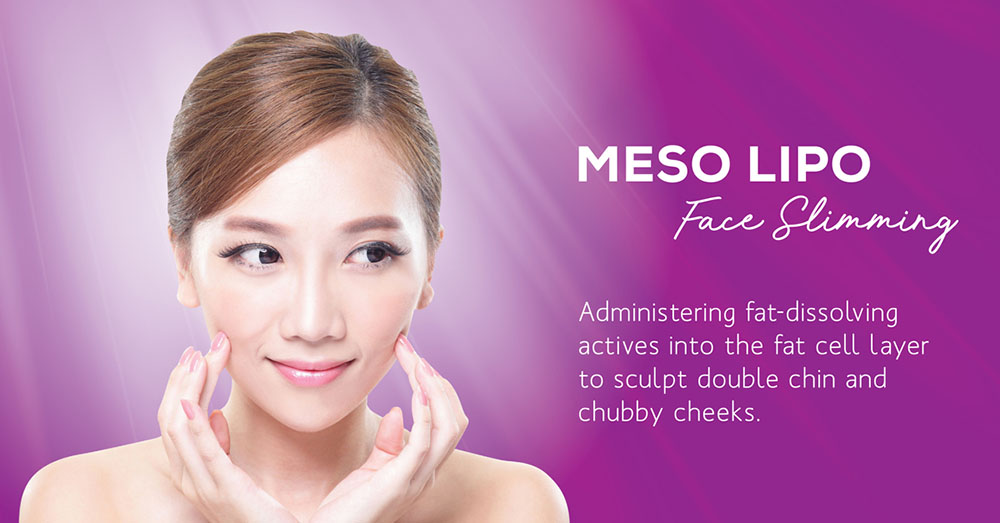 You want to look and feel your best, you eat right, you exercise and still you can't shift those stubborn fatty deposits. They are that annoying final hurdle to achieving your body image goals.
The MesoLipo fat melting injection using mesotherapy techniques specifically target localised fat and cellulite deposits. It involves injecting microscopic quantities of a variety of pharmaceutical agents, natural plant extracts, homeopathic agents, and vitamins into the skin.
Often described as 'non-surgical liposuction', this fat dissolving injection treatment has been used for over 20 years in many countries as a fat-dissolving agent to help reduce those annoying exercise and diet resistant small fatty deposits.
What is Meso Lipo treatment?
Meso Lipo is an effective and economical fat dissolving injection procedure involving small injections of various vitamins and compounds into the fat deposits which dissolves the fat cells and removes them permanently from the body.
The solution injected causes inflammation and cell death to the fat cells, which are then permanently removed from the body. Other fat cells in the vicinity however may enlarge with an increase in calorific intake however the 'killed' fat cells never re-grow.
Typically benefits are seen 3-4 weeks after the initial treatment.
Today, Meso Lipo is use to:
Remove fat in areas like the stomach, thighs, buttocks, hips, legs, arms, and face
Reduce cellulite
Face Lifting
Tighten loose skin
Recontour the body
Firming and thickening of skin
Slimming double chin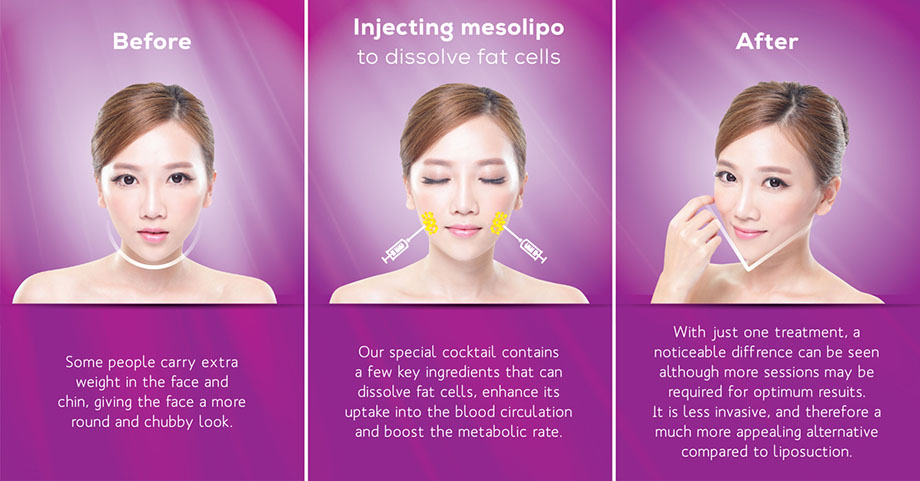 HOW LONG DOES THE TREATMENT TAKE?
A special anesthetic cream is applied for approximately 30 minutes before your treatment to ensure maximal comfort. The Meso Lipo treatment itself takes between 20 to 30 minutes.
Customer Reviews
HOW MUCH DOES IT COST?
The cost of Meso Lipo depends on the type of treatment you're getting and the number of palms you need. In general, a single palm size costs RM600.
WHAT TO EXPECT DURING THE PROCEDURE?
This treatment consists of a series of small injections of a specific cocktail of fat–melting substances into the middle layer of skin of the target areas of localized fat. The chosen formula acts as a "medicinal bullet" that is delivered directly to a target in the skin/ body. Selective injection directly into problem areas has several advantages: smaller doses, site-specific localization and using the skin as the delivery system allows for efficient time release.
WHAT CAN I EXPECT AFTER MY TREATMENT?
It is recommended that you have some time to recover after your Meso Lipo treatment. You may experience some superficial swelling, which will settle within 24-48 hours. Although rare, other possible side effects include the appearance of some small needle marks which will also resolve within a few days. Treatment around the eye area may take longer to settle – possibly 5-7 days.
WHO SHOULD CONSIDER MESO LIPO TREATMENT?
The ideal candidate for Meso Lipo treatment is someone who is not interested in a surgical procedure and who has a stubborn area of fat which is relatively non- responsive to dieting and exercise.
Promotion

Book a trial at Atria outlet today